Easter is a season of renewal, rebirth, and joy. It's a time to celebrate with loved ones, indulge in delicious food, and embrace the beauty of nature. And what better way to accessorize for this festive season than with our gorgeous silver jewellery in Nairobi?
From elegant silver necklaces to eye-catching silver bracelets, we have everything you need to add some extra sparkle to your Easter ensemble. In this article, we will explore the latest trends in silver jewellery for Easter and provide some tips on how to style them for the perfect holiday look.
Why Silver Jewellery is Perfect for Easter
Silver is a versatile metal that complements any skin tone and outfit. It is also associated with purity, clarity, and calmness, which are perfect for the Easter season. Silver has been a popular choice for jewellery for centuries. Its durability and timeless beauty make it a go-to option for any occasion, including Easter.
Silver can be polished to a high shine, giving it a bright and reflective surface that catches the eye. It can also be brushed or oxidized to create a more matte finish, making it perfect for more subdued and understated looks. Additionally, silver jewellery is affordable and easy to maintain, making it a great investment for Easter.
How to Choose the Right Silver Jewellery in Nairobi for Easter
When choosing silver jewellery for Easter, consider your outfit, the occasion, and your personal style. If you're attending a formal Easter dinner, opt for a statement silver necklace, gemstone earrings, or bracelet that complements your outfit. If you're going for a more casual look, go for a minimalist silver necklace or stud earrings. Another thing to consider is the colour of your outfit. Silver complements cool tones such as blues, greens, and purples. It also pairs well with neutral colours such as white, grey, and black.
How to Style Silver Jewellery for Easter
The key to styling silver jewellery for Easter is to keep it simple and elegant. Don't overload your outfit with too many accessories. Instead, choose one or two statement pieces that complement your outfit and make a statement. If you're wearing a high-necked outfit, go for a pair of statement silver earrings. If you're wearing a low-cut outfit, opt for a simple silver necklace. If you're wearing a sleeveless outfit, accessorize with a silver bracelet or bangle.
Layering Silver Jewellery
Layering is a trend that has been gaining popularity in recent years, and it's an excellent way to add dimension and interest to your Easter outfit. Consider layering different lengths of silver necklaces, or stacking multiple silver bracelets to create a layered effect. Mixing and matching different textures and finishes of silver jewellery can add depth and visual interest to your look.
Personalizing Your Jewellery
Another trend in the world of jewellery is personalization. Many people like to add a personal touch to their jewellery by engraving names, initials, or special dates. Our silver jewellery collection includes pieces that can be personalized, such as silver name necklaces, initial necklaces, and birthstone bracelets. These pieces make great gifts for loved ones or a special way to commemorate an important occasion like Easter.
Statement Pieces
If you want to make a statement with your Easter accessories, consider investing in a bold and eye-catching silver jewellery piece. Statement necklaces or oversized silver earrings can add drama and glamour to any outfit, making them perfect for special occasions like Easter. When wearing a statement piece, keep the rest of your outfit simple and understated to let your jewellery take center stage.
Mixing Metals
Gone are the days when it was taboo to mix metals. Today, combining silver with other metals like gold, rose gold, or bronze is a popular trend in the world of jewellery. Mixing metals can add visual interest and create a unique and personalized look. When mixing metals, make sure to choose pieces that complement each other in terms of color, texture, and finish.
How to Mix and Match Silver Jewellery for Easter
Mixing and matching silver jewellery can be a fun and creative way to accessorize for Easter. Here are some tips to help you get started:
Experiment with different textures and styles. For example, you can pair a chunky silver necklace with delicate silver earrings or stack several silver bangles of varying thicknesses.

Use color to your advantage. You can pair silver jewellery with colorful gemstones or beads to add a pop of color to your outfit. Alternatively, you can wear silver jewellery with monochromatic outfits to make a statement.

Keep it balanced. When mixing and matching silver jewellery, it's important to keep the balance. Avoid wearing too many statement pieces at once, and make sure to complement your outfit rather than overpower it.
Easter-Inspired Jewellery
One of the best ways to accessorize for the Easter holiday is to incorporate pieces that reflect the season's themes and colors. Our silver jewellery collection includes a range of pieces inspired by Easter, such as necklaces and bracelets featuring colorful gemstones or charms like cross pendants. These pieces are perfect for adding a touch of Easter cheer to any outfit.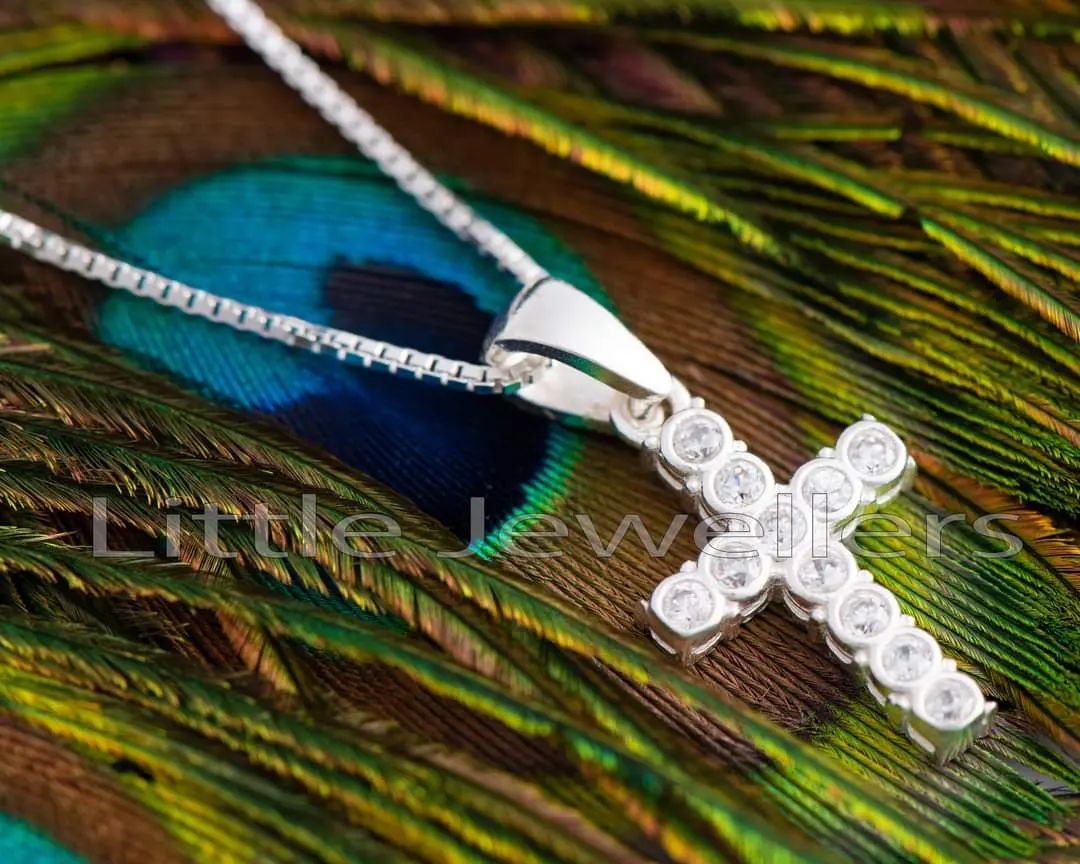 Our Top Silver Jewellery Picks for Easter
Silver Zirconia Earrings – These earrings are timeless and versatile. They can be dressed up or down and complement any outfit.

Silver Pendant Necklace – A simple silver pendant necklace adds elegance to any outfit. It's perfect for a casual Easter brunch or a formal Easter dinner.

Silver Cuff Bracelet – A silver cuff bracelet adds a touch of sophistication to any outfit. It pairs well with a flowy dress or a fitted blazer.

Silver Stud Earrings – If you prefer minimalist jewellery, silver stud earrings are a great option. They're subtle yet stylish and can be worn with any outfit.
Conclusion
Accessorizing with silver jewellery is a great way to make a statement this Easter season. Whether you're attending a formal dinner or a casual brunch, our top silver jewellery picks will add elegance and sophistication to any outfit. Remember to choose jewellery that complements your outfit, keep it simple and elegant, and take proper care of your silver jewellery to ensure it lasts for years to come. With these tips, you're sure to shine bright this Easter season!