Eid is a joyous and celebratory festival, and what better way to commemorate the occasion than with some lovely silver jewellery.
Silver is an elegant and timeless metal that adds a touch of class to any ensemble. Look no further if you're in Nairobi and looking for the perfect jewellery to complete your Eid look. 
Our beautiful silver jewellery collection has everything you need to add some glitz to your Eid celebrations.
Our Silver Jewellery Collection for Eid festivities
Our selection of silver jewellery includes both traditional and contemporary designs. 
We have something for everyone, whether you want something bold or something subtle. 
Here are a few examples of what we have:
Vibrant Red Zirconia Drop Earrings for Eid
Our sterling silver drop earrings with a red zirconia stone would complement any jewellery collection. The silver and red colour combination is eye-catching and elegant.
Sterling silver is a high-quality metal that is long-lasting and easy to care for. It is a popular jewellery material because it is hypoallergenic and tarnish-resistant, making it ideal for everyday use.
Zirconia is a synthetic gemstone known for its radiance and tenacity. Red zirconia is a stunning colour that will brighten up any outfit.
The drop style of these earrings adds a sophisticated touch to any outfit. 
Earrings in sterling silver with a red zirconia stone would be a perfect accessory for Eid for several reasons.
To begin with, Eid is a time to celebrate and dress up. These elegant and eye-catching earrings will add a touch of glam to any Eid outfit.
Wearing sterling silver jewellery on Eid is a way to honour the holiday's traditions and cultural significance.
Finally, these earrings are adaptable and can be worn with a variety of Eid outfits, from traditional to modern. They are versatile and can be dressed up or down, making them an excellent choice for any Eid celebration.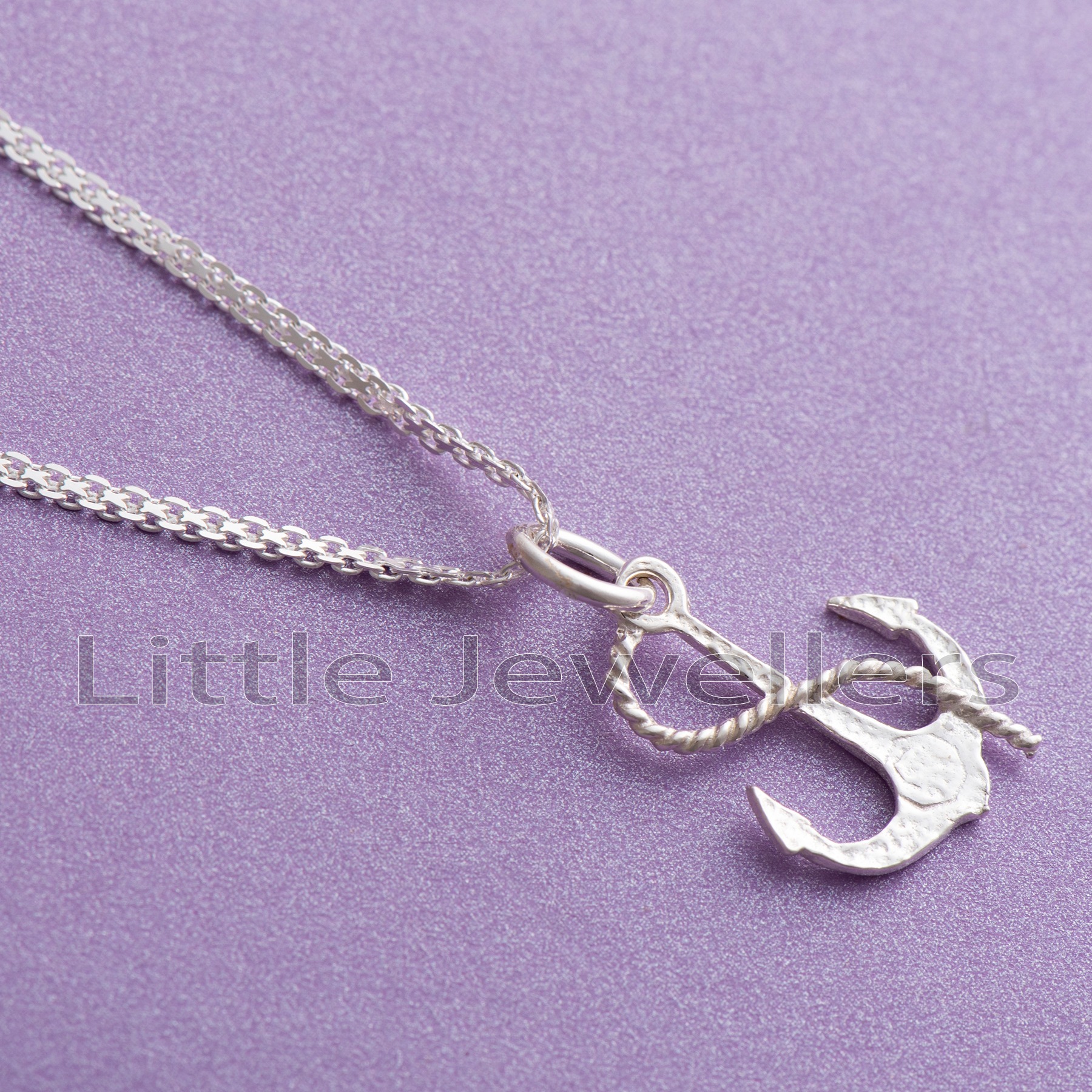 The anchor pendant is a popular piece of jewellery that represents strength, stability, and hope. The anchor represents a strong foundation and steadfastness, making it an ideal Eid gift. 
This pendant is made of high-quality silver and is a lovely piece of jewellery that will last a lifetime. This anchor pendant is a must-have whether you're looking for a gift for someone special or want to add a new piece to your collection.
This anchor pendant, made of the finest silver, is a testament to quality and attention to detail. 
The pendant is handcrafted by skilled artisans who take pride in their work, ensuring that each piece is flawless and beautiful.
The silver is polished to a high shine, creating a lustrous and radiant finish that will draw the attention of anyone who sees it. This pendant is not only lovely but also long-lasting, making it an excellent addition to any jewellery collection.
The anchor pendant is a versatile piece of jewellery that goes with many different outfits and styles. Whether you're getting ready for Eid or looking for a simple yet elegant accessory to wear on a daily basis, this pendant is ideal. 
The pendant is suspended from a delicate silver chain, lending it a graceful feminine and masculine appearance that is appropriate for any person this Eid.
Sterling Silver Hoop Earrings with Zirconia Stones for Eid: Eye-Catching and Elegant Newcomers to Your jewellery Collection
Looking for a timeless and stylish piece of jewellery to complete your Eid ensemble? Take a look at these stunning sterling silver hoop earrings with small zirconia stones. These earrings are ideal for anyone who wants to add a touch of sparkle to their look, thanks to their elegant design and high-quality materials.
These hoop earrings have a timeless design that is both elegant and versatile, making them appropriate for any occasion.
These earrings are made of high-quality sterling silver and are durable and long-lasting, ensuring that they will be a staple in your jewellery collection for years to come.
The small zirconia stones add the perfect amount of sparkle to the earrings, making them suitable for both casual and formal settings.
These earrings are made of 925 sterling silver and are not only beautiful but also durable and hypoallergenic.
The zirconia stones are carefully chosen for their quality and clarity to catch the light and sparkle beautifully.
These earrings are built to last, so you can wear them with confidence knowing that their shine and elegance will last.
Ideal for Eid gifting.
Looking for the ideal Eid gift for a loved one? These earrings are certain to please and impress.
These earrings are a gift that will be treasured for years to come, thanks to their timeless design and high-quality materials.
Whether you want to surprise your partner, mother, sister, or friend, these earrings are a thoughtful and stylish option that will leave a lasting impression.
Conclusion
If you want to add some glitz to your Eid celebrations, our stunning silver jewellery collection in Nairobi is the ideal choice. With so many different designs to choose from, you're sure to find something that matches your outfit. So come on over to our store and check out our selection – we guarantee you won't be disappointed.